METHODS OF EXTENSIONS
---
---
As a hair extension specialist, I am certified in multiple methods of extensions. These types of extensions include fusions, ktips, itip, tape in, beaded wefts, handtied wefts and WBR. The purpose of this page is to elaborate on the different methods and to help you identify which method may be ideal for you.
The first method is Fusions / Ktips, the second method is itips / microbeads, the third is tape ins, the fourth is wefts and the fifth is clip ins and halo extensions. All of the above methods have the ability to be customized to suite your individual needs. Additionally, customizing a hybrid mix of extension methods is what I do for some of my clients in order to get their look just right!
---
Keratin EXTENSION / K TIP EXTENSIONS / FUSION EXTENSIONS
---
Keratin Tip extensions, are also known as k tips, or fusion hair extensions. Fusion extensions, or K tips are individual extensions that I installed with a heating tool that safely melts the keratin silicone resin. I then bond or fuse the extension around your natural hair. The silicone additive in the keratin resin adds a protective coating around your hair shaft.
Versatility and maintenance are the key benefits of individual, strand by strand bonded application. As a result, my clients are able to wear the hair in high ponytails or up dos. The bond and point of attachment is very small and light.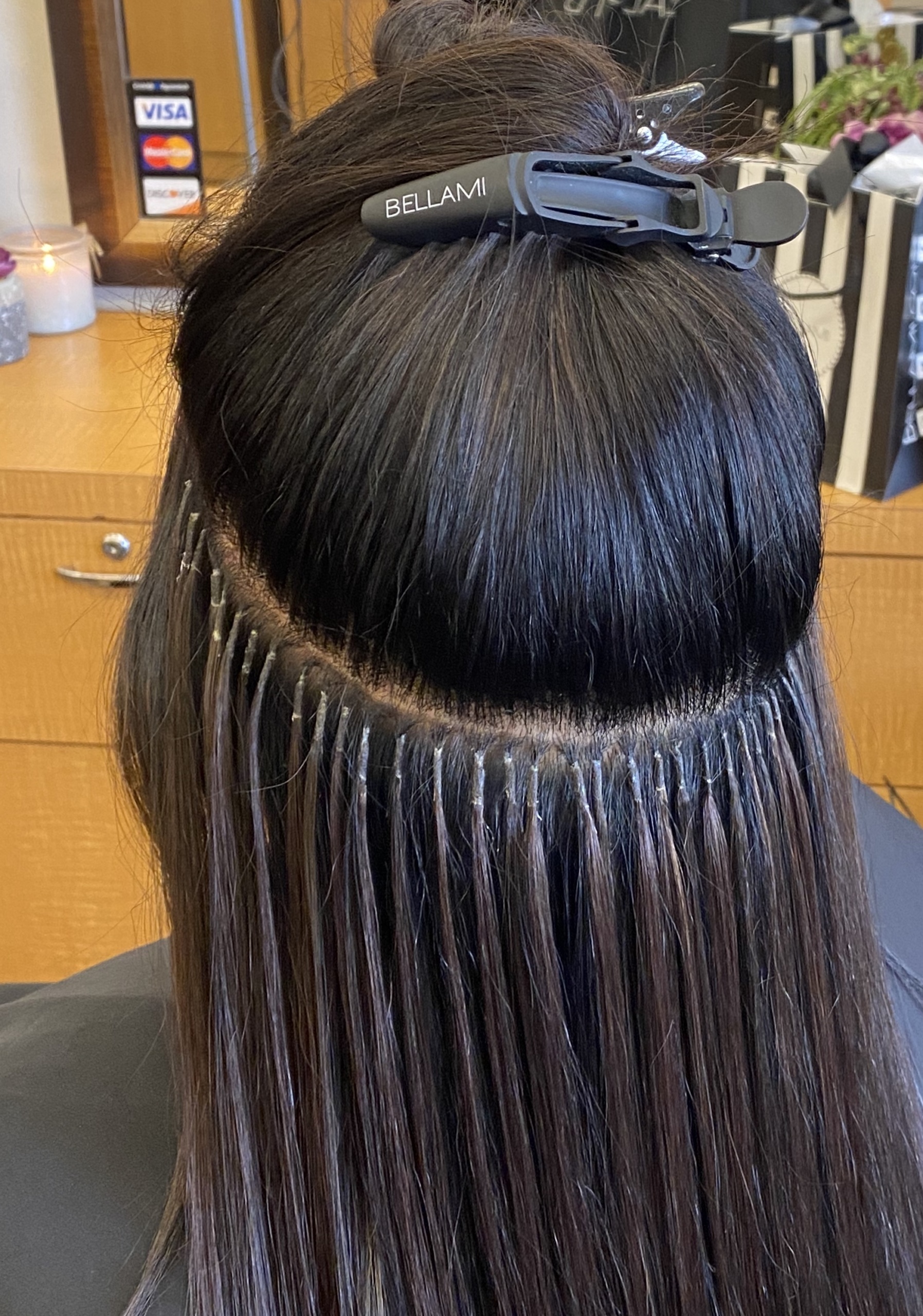 ---
Customizing possibilities are endless when it comes to fusion extensions. In addition to creating a bespoke blend of colors, I can cut down K tip extensions to micro size strands for the finest hair textures, which also makes k tips a great option for all hair types.
K tips are ideal for:
Active lifestyles

Have their hair up frequently

Minimal upkeep

Long term wear
---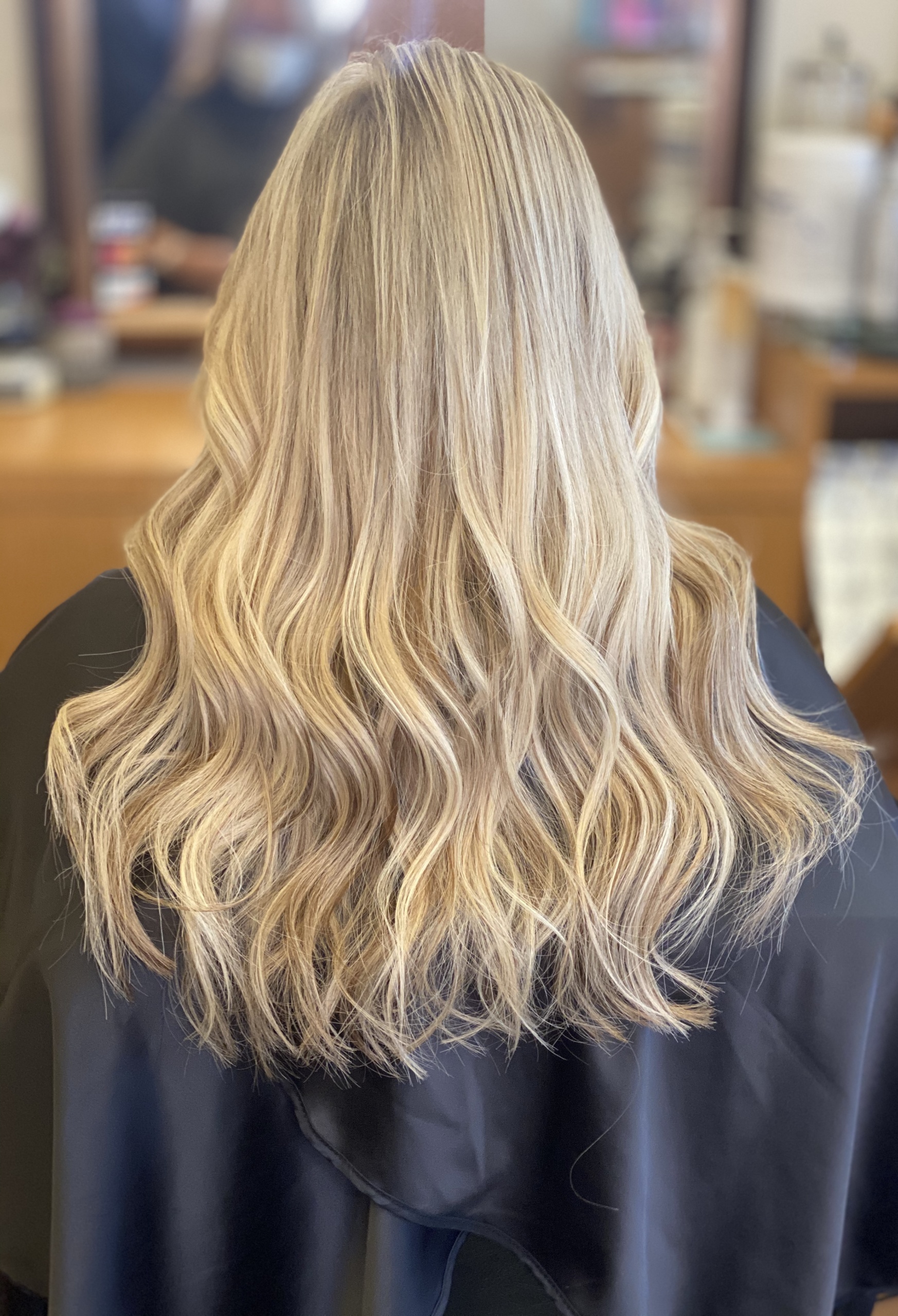 ---
ITIP EXTENSIONS ASK MICRO LINK HAIR EXTENSIONS AKA MICRO BEAD EXTENSIONS
Itips are also known as micro bead or link extensions and they do not require the use of heat or glue. I install these individual extensions as a strand by strand application that is secured with a bead, link, or cylinder.
The micro beads or cylinders are usually made of a metal emulsion and can come with a silicone lining. My Itips of choice have a polyurethane, or rubberized tip. I prefer polyurethane tips because it acts as a cushion on the natural hair, which in turn prevents slippage of the extension, breaking, or damage to the natural hair. I thread the cylinders on a loop tool and use a crimper to complete the application.
---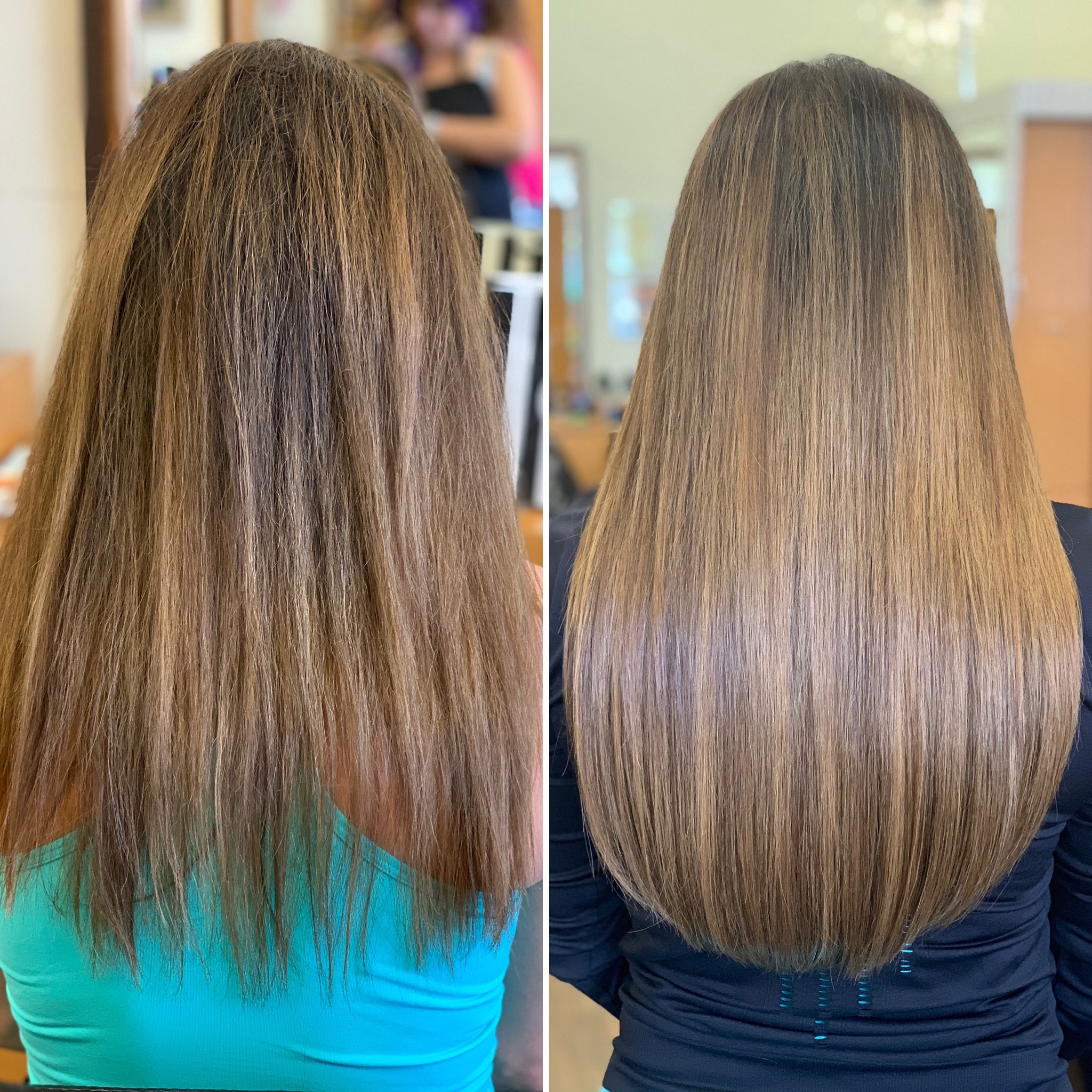 ---
Like k tips, the strand by strand application allows for maximum mobility and versatility. I tips are suitable for all hair types and they are reusable. Additionally, if you properly care for your itips they will last up to 12 months.
---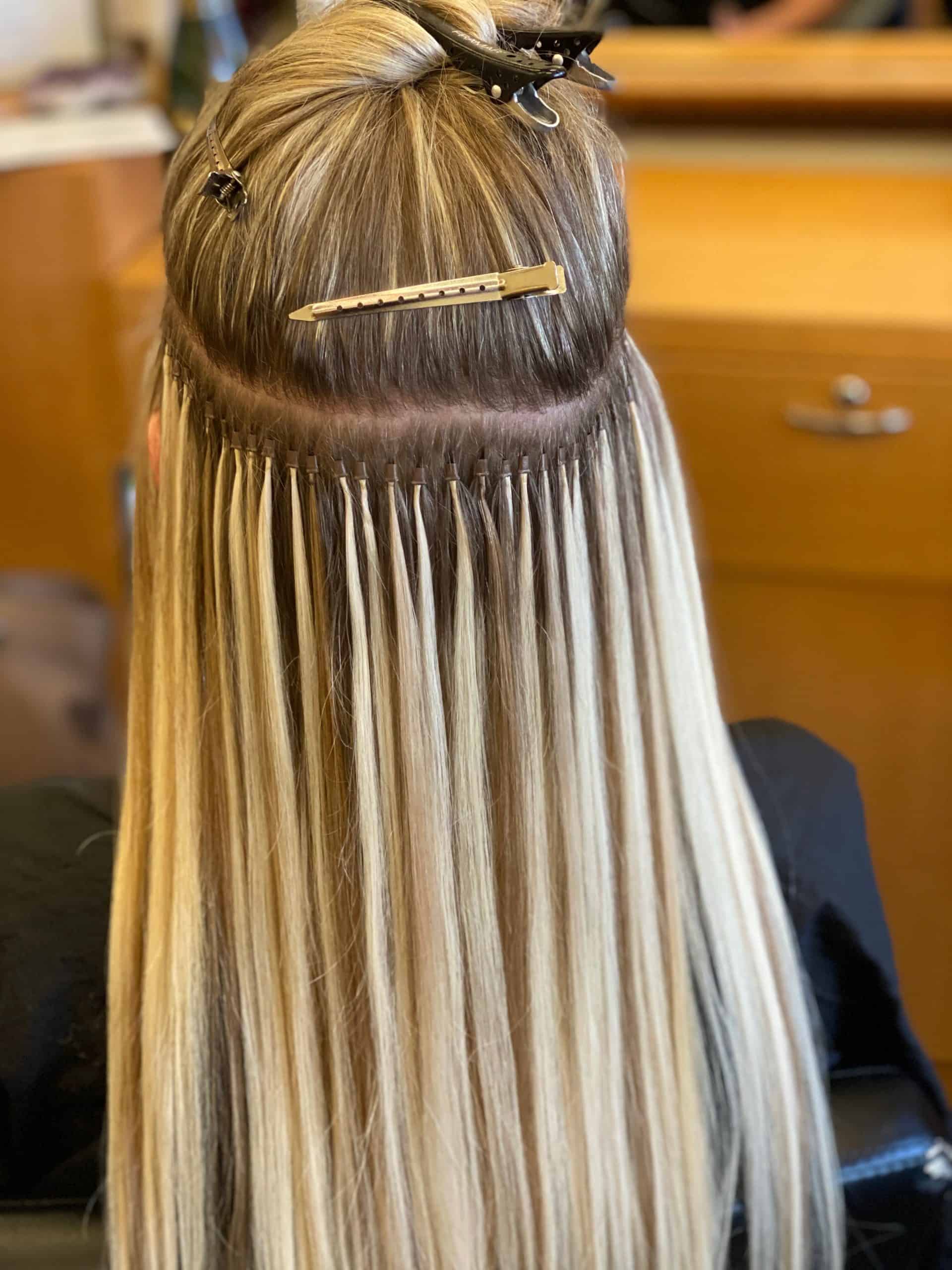 ---
As your hair grows out, your itips will too. This means your itips need to be moved up every 4-6 weeks.
Itips are ideal for those who:
Have active lifestyles

Wear their hair up a lot

Doesn't want the use of heat or glue in application

Easy removal
---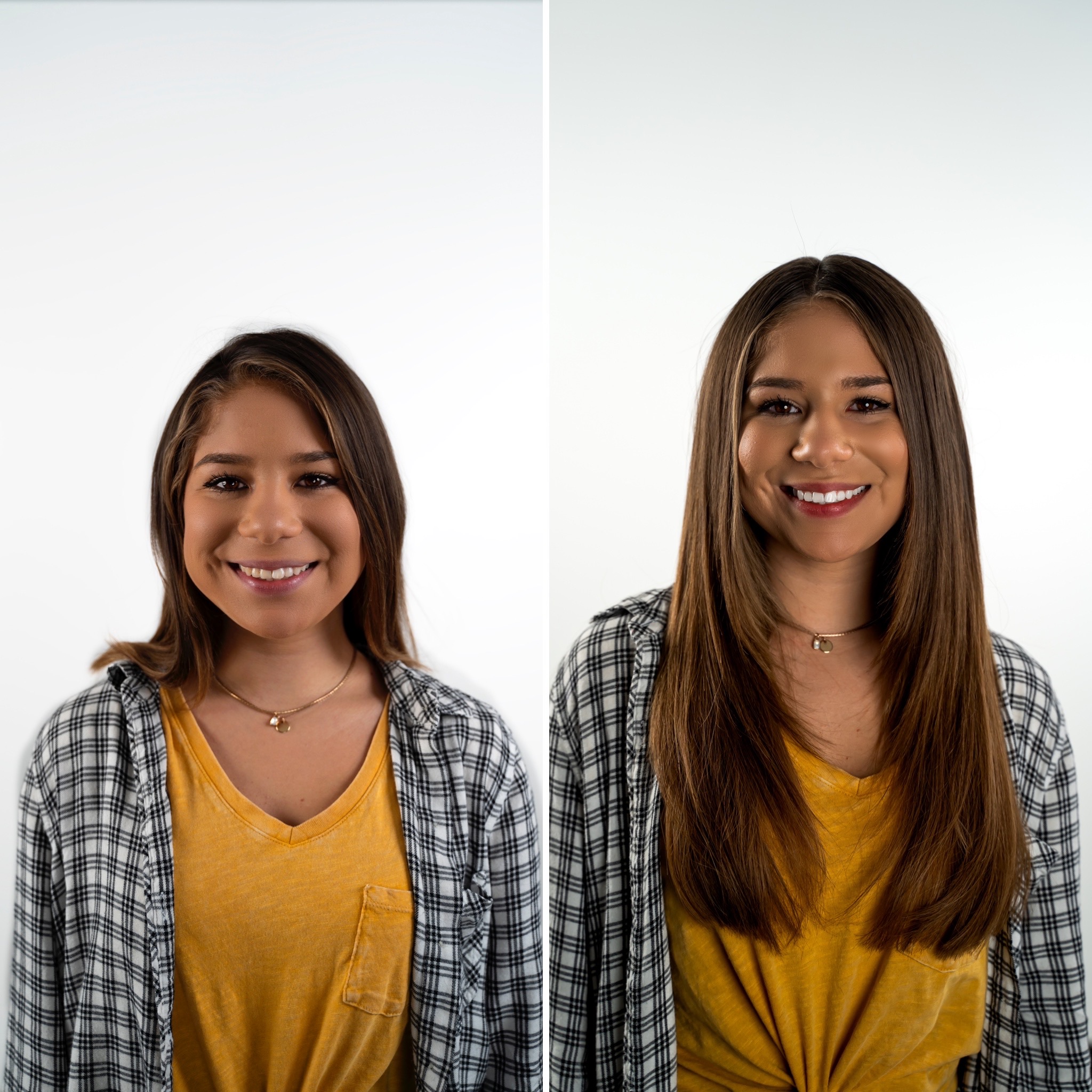 ---
TAPE IN HAIR EXTENSIONS
Tape in hair extensions are a small weft tab that are discreet. I use double sided or single sided to customize to my clients needs.
Like itips, they are reusable, flexible and lay flat to the head. Tape Ins are latex free and are applied using a medical grade adhesive that sandwiches the natural hair between 2 wefts. Additionally, I can also cut tape ins in half for further customization.
---
---
Tape In hair extensions are a great option for all hair types. My tape in clients reuse there extensions and they last 6-8 months. Like Itips and Wefts, maintaining Tape Ins as they grow out with your natural hair. Move ups is essential. Appointments for maintenance are usually between 4-8 weeks.
Tape ins are ideal for those who:
Want a quick application.

Blending a short, choppy cut or layers.

Sensitive scalp.
---
WEFt HAIR EXTENSIONS
Volume wefts, beaded wefts and hand tied wefts are all the rage right now! Weft hair extensions are thick pieces that do not require heat. I sew the on your natural hair. My clients choose this method of extension because it provides full density and coverage. Machine tied or hand tied weft extensions are available. Hand tied wefts, or beaded weft extensions are an adaption to the traditional sewn in weft. I customize my wefts by sewing multiple colors together for the perfect color match.
---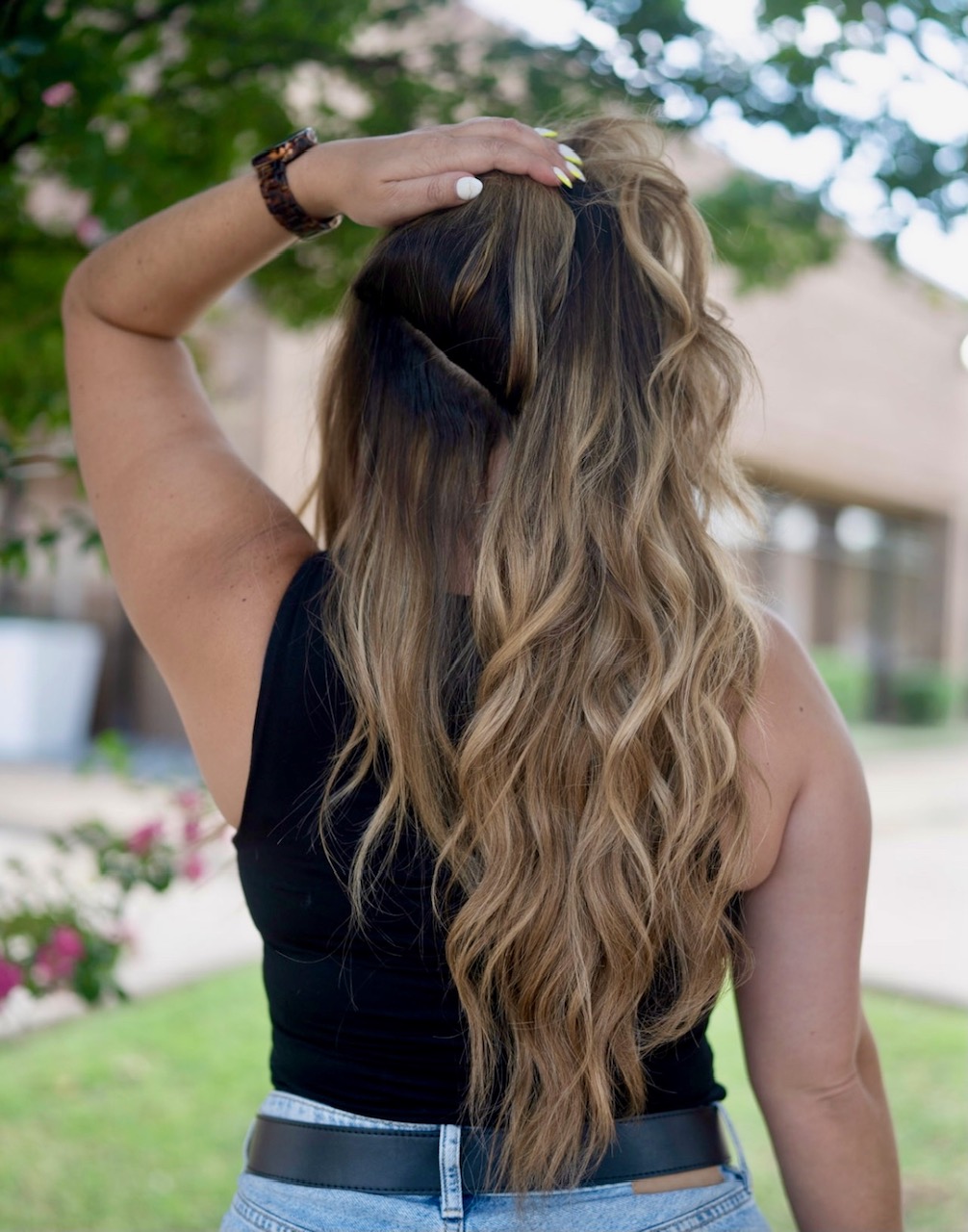 I currently use Bellami Volume wefts with a hand tied beaded weft foundation or the Waterfall Beaded Row ™ WBR foundation. Both the Bellami Volume foundation and the WBR Waterfall Beaded Row ™ foundation can be coupled together. I can also use the WBR Waterfall method with any other weft hair of your choosing.
Beaded wefts are suitable for all hair types and do well with thick, coarse or wavy hair. The WBR method works well for both fine and thick hair. Just like itips and tape ins, wefts are reusable. If you properly care for your hand tied wefts, their lifespan should be 6 - 8 months.
---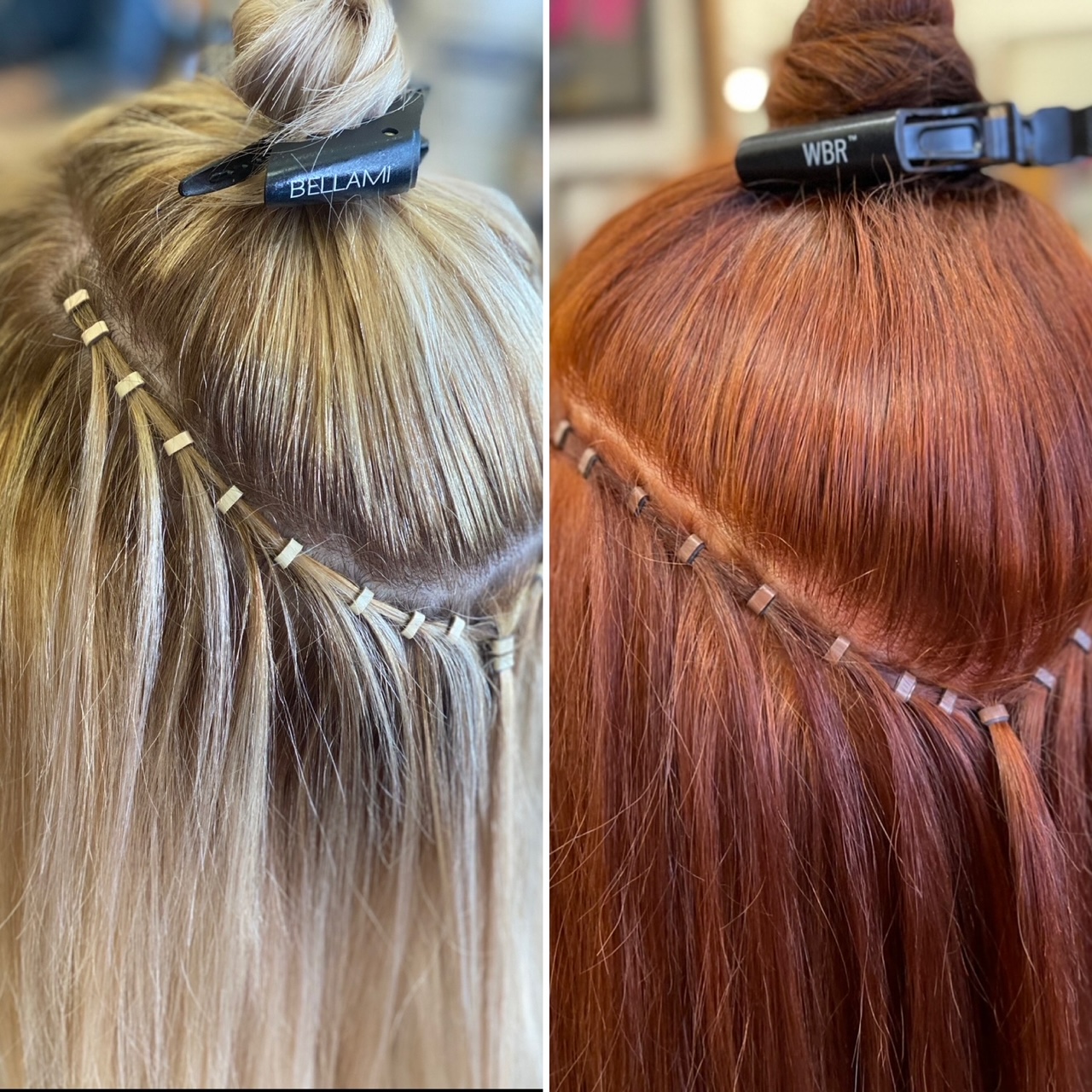 ---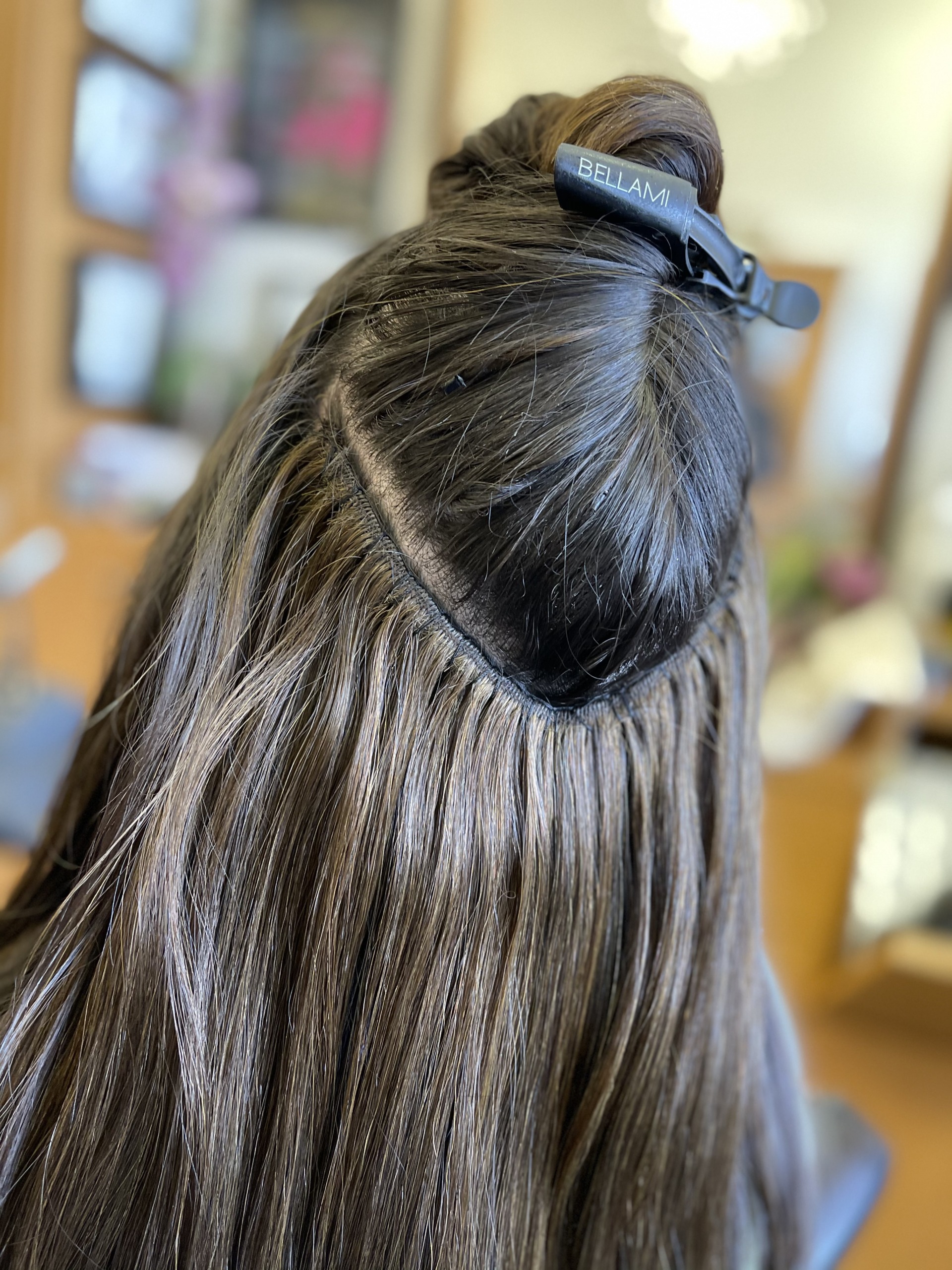 ---
As your hair grows, your weft will grow out. This means that your weft extensions need to be moved up as they grow out with your natural hair. The WBR method and Bellami Volume method are easily maintained between 4-8 weeks.
---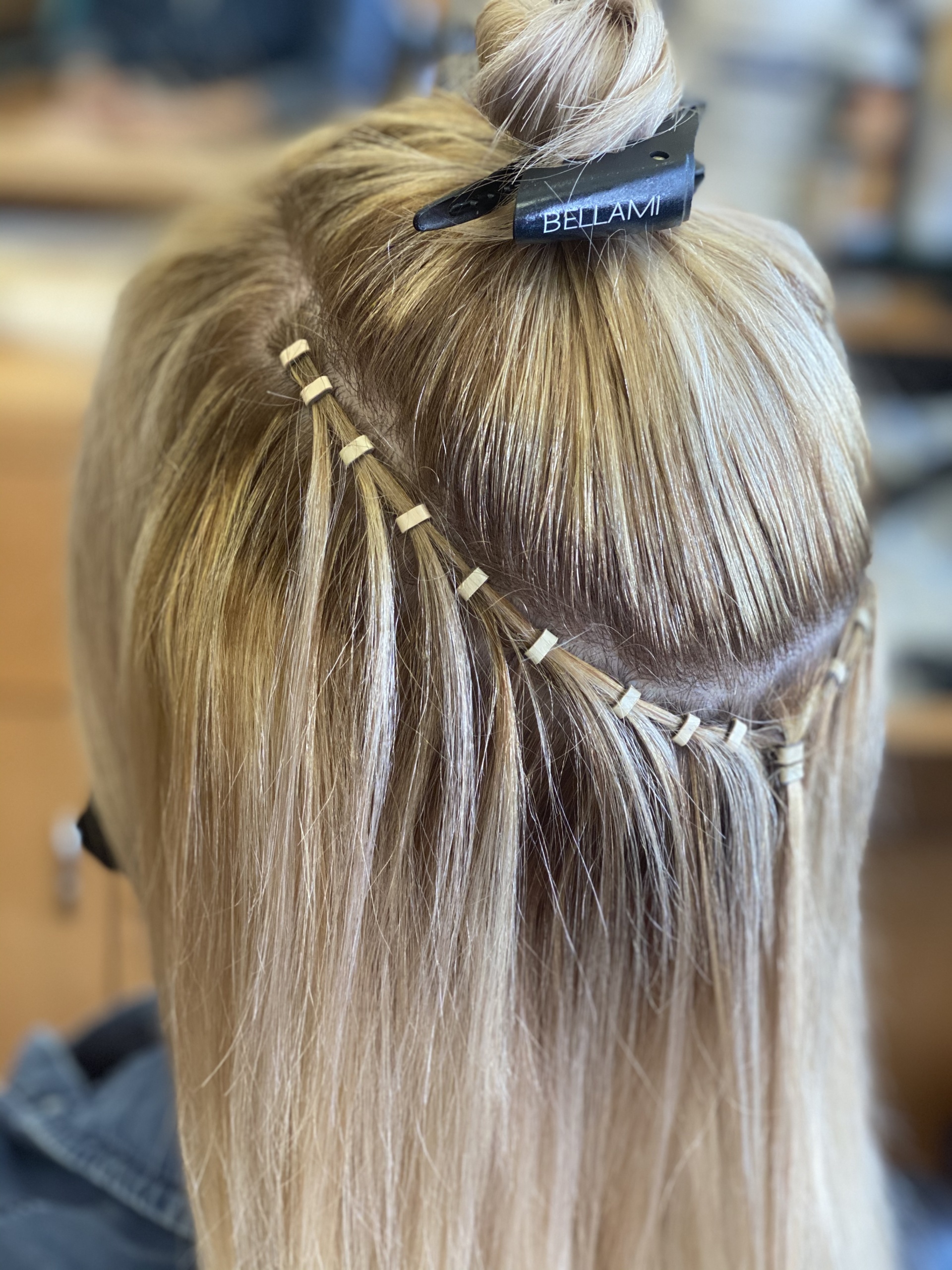 ---
Wefts are ideal for those who:
Maximum density & coverage

Minimal upkeep

Doesn't want the use of heat
CLIP IN HAIR EXTENSIONS & HALO HAIR EXTENSIONS
I highly recommend clip in hair extensions and halo hair extensions for my clients who don't want to commit to professional extensions. These are both great options because both clip in and halo extensions are quick, easy and temporary. These applications that can be added daily to your routine and result in achieving volume, length and a pop of color.
100% Remy, human hair extensions are the way to go when choosing a set, as opposed to synthetic extensions in my professional opinion. This is because you can enjoy curling or straightening your extensions, just like your own natural hair. Additionally, I can tailor your clip ins and halo with a cut, color, and style to suit your needs.
---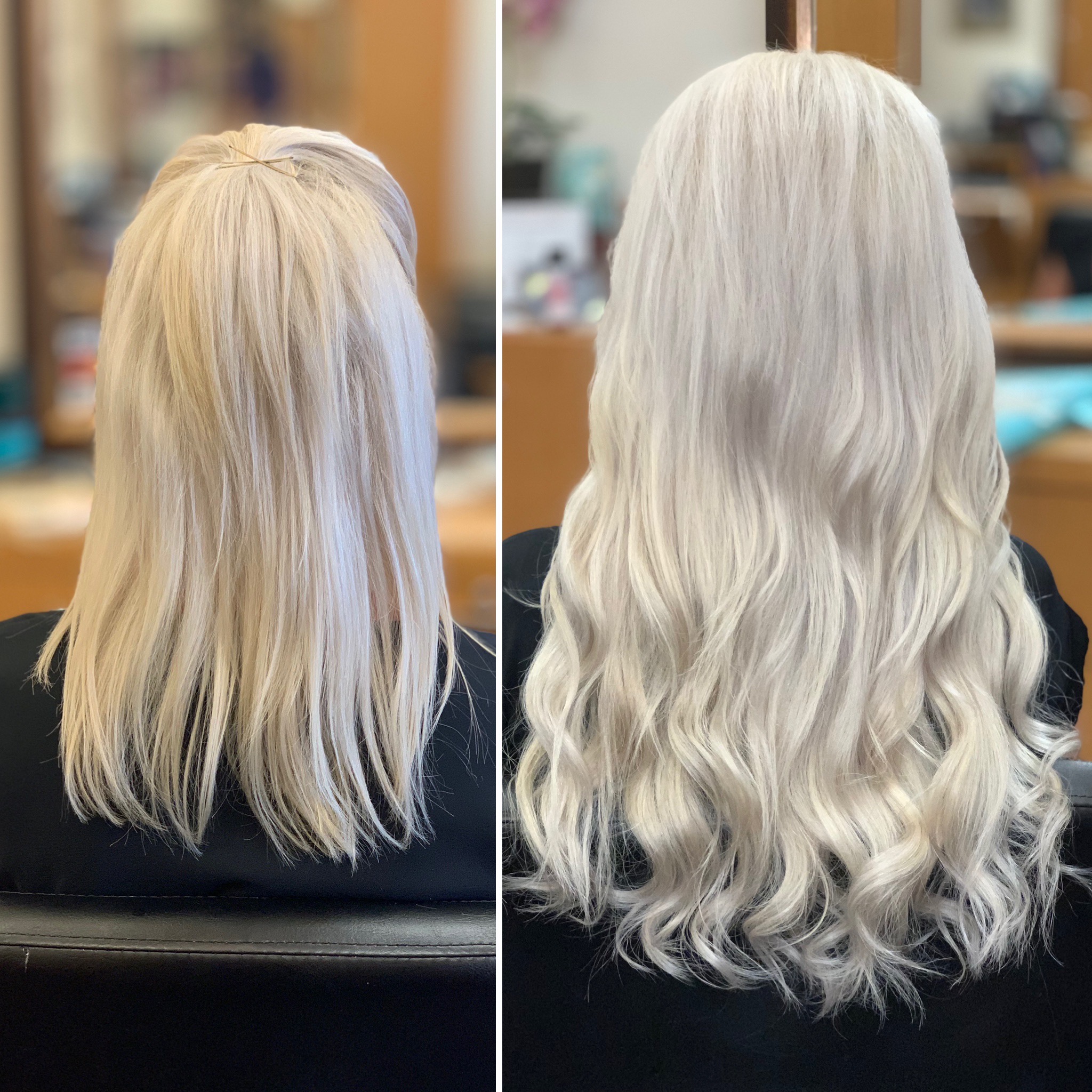 ---
Clip in hair extensions are available in a variety of styles, lengths, weights and colors. They are a thinner weft extension with clips sewn on to the weft. A full set of clip ins usually comes with 6-8 weft pieces. Halo hair extensions are a thick weft that is secured with clear fishing wire that rests on your head like a headband. Halo extensions come in a variety of colors and lengths.
Clip In hair extensions and Halo hair extensions are ideal for:
Weddings and special occasions

Not permanent

Versatility in styling
*Consultations are REQUIRED before all hair extension services*
$ PRICES ARE BASED ON THE DESIRED LOOK $
---
---
---