Hair donation is a life altering haircut. Donating your hair to create a wig for someone in need is such a wonderful thing to do. Wigs, especially human hair wigs can be costly. Hair loss happens in children and adults. Autoimmune diseases, cancer, thyroid and hormone imbalances are some of the possibilities for losing hair. There are many organizations that will take your hair donation. My personal favorite is Wigs for Kids because they provide children (ages 18 an under) with hair loss their wigs for FREE. Who wouldn't want to donate their hair to help out a child?
Wigs for Kids
Wigs for Kids is a non-profit organization that has been supplying children suffering from hair loss since in 1981. The custom, hand-tied wigs are made of the donated human hair to look just like a child's hair would naturally look. Wigs for kids never charges the family for the hairpieces. The rely solely on donations.
How to donate to Wigs for Kids?
If you have been considering donating your hair, there is some key information you will need in order to do so. First, you need
to have a goal in mind for your own hairstyle after your donation cut. Do you want a pixie cut or a short bob?
Check out my Haircuts & Style page or my Instagram for inspiration.
Once that idea is solidified, schedule an appointment for your donation haircut. You will need to come with clean, dry hair for the donation appointment.
I will section the hair off into multiple ponytails and then cut them to the desired length. All the ponytails will be wrapped in tissue, placed in a ziplock bag and are then ready to be mailed off with the Wigs for Kids Donation form.
Making the Wig
One hair donation from a donor usually yields 4-6 ponytails. These ponytails are sent in and the wig production process begins. A complete wig generally needs 18-20 donated ponytails. The average cost for making the wig is about $1800.
How long does your hair have to be to donate?
In order to create the best wigs possible, these are prerequisites for the hair that is eligible for donation:
12 inches in length is the minimum requirement.
Hair can not be chemically treated. No color, highlights, perms, or relaxers.
No dreadlocks.
Hair has to be clean and dry before the donation cut.
Not everyone is able to donate their hair. Wigs for Kids Section 501(c)(3) charitable organization and your monetary donations are tax deductible.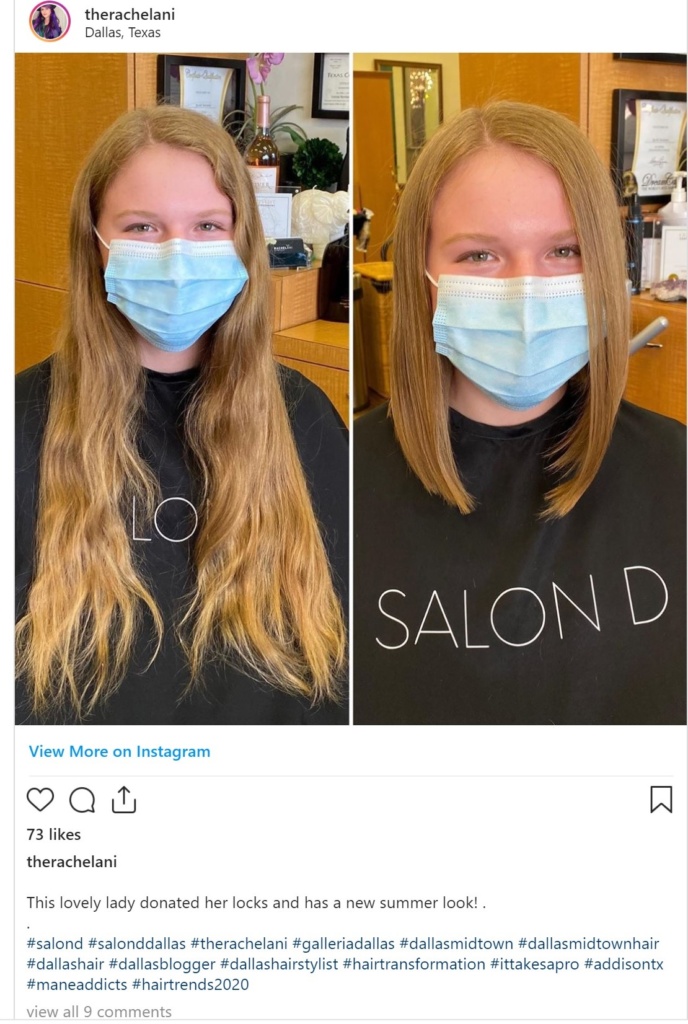 If you are wanting to give back to a great cause, reach out! Lets get your haircut donation scheduled and make a child's day!