Dallas Hair Salon
If you asked me in January of this year if I thought I would have been off for 7 weeks this year, away from my Dallas hair salon, I would have thought that time off would have been for a fabulous vacation to Europe, possibly Italy, Greece or Spain or an amazing tropical destination. How could I have imagined that I would be at home in Dallas, not indulging in my passion as a hairstylist behind the chair? That my work isn't essential and it is hazardous to be in the presence of people…

As a vivacious individual who loves the hustle and bustle of life, talking with and interacting with others brightens my day. The majority of people in the service industries are those who look forward to interaction with their clients. Seeing my clients, catching up on their lives, hopes and dreams is something I greatly cherish. Their time in my chair is something they look forward to as much as I do. My clients and I have laughed, cried and shared many milestones together. Not having that these past seven weeks has been challenging. 

Photo credit : Dallas Morning News Smiley N. Pool / Staff Photographer
Photo Credit: Paper City Magazine Joseph Haubert
Silver Lining
Finding the silver lining in a situation is something I personally strive for when things do not go according to plan. My time away from the chair has been spent moving to a new home, packing, unpacking and organizing and taking as many online zoom classes for hair that I can.  Barbicide Certification was a must so I can ensure that my return to the salon environment is safe and up to par with the new recommended guidelines.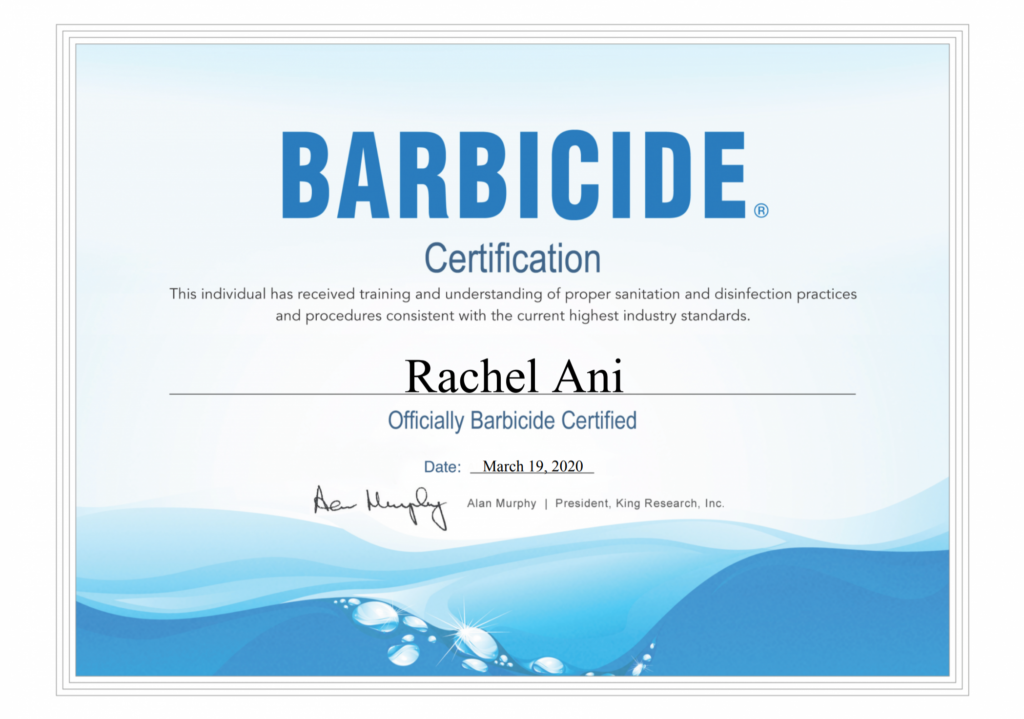 What is Barbicide?
Barbicide is the bluish liquid you see on a stylists station for their combs and steel implements, or a nail tech or estheticians station for their steel implements. This hospital grade disinfectant is used by those in the cosmetology field to properly sanitize their station, chair, tools and work surfaces.
Barbicide is:
EPA approved broad-spectrum disinfectant.
Proven effective against HIV-1, Hepatitis B, Hepatitis C, Staphylococcus (including MRSA), Pseudomonas, Salmonella, Clostridium Difficile (C.Diff), Vancomycin-Resistant Enterococcus (VRE), Herpes, Influenza (including H1N1), "Athletes Foot" (TineaPedis)
What is Clippercide?
Clippercide, is the spray that is used to sanitize clippers, edgers and scissors. In addition to being effective in killing the bacteria and virus regular barbicide does, Clippercide also kills tuberculosis.
According to the Barbicide website, their recent results from lab testing state that Barbicide is effective against the Human Coronavirus. The test results are posted on this link with a statement from the company. Barbicide Human Corona
I feel assured that the product I used to disinfect my workstation and chair will work to its full hospital grade disinfectant potential. In addition to my Barbicide sanitizer, I also have Clorox & Lysol Wipes, and 90% Isopropyl Alcohol. Gloves are worn during my chemical services. Salon D provides freshly laundered smocks and capes & the housekeeping staff of Salon D are very diligent in their cleaning throughout the day.
What is the new salon normal after COVID 19?
Governor Abbott announced that salons can open back up Friday, May 8th. There will be changes going forward ensure everyone's health and safety. I will be wearing a mask for your service. All clients must have a mask and will have their temperatures taken. Temperatures of 99.5 degrees or higher, will not receive a service and will need to reschedule for 2 weeks later. If for any reason you feel even slightly under the weather, please reschedule. 24 hour cancellation fee is waived during this tumultuous time. Clients will wait in their cars until the time of their appointment. Please text me upon arrival, and I will text when you can come in. My contact info is here.
Only those with appointments will be allowed in the salon. This means, no children, friends, or significant others.
I will also only work with one client at a time. The Open Texas Report Check list for Clients visiting Cosmetology Salons PDF here. I will not have any magazines. The salon will also not be providing coffee and water bar services during this time. The dressing rooms are currently closed. Salon D's cleaning staff will be upping the ante on their cleaning and disinfecting the salon throughout the day. Please let me know ahead of time if you need retail products so I'm able to coordinate with the front desk on getting your products.
Additional time will be added to each of my services to prepare for my next client. I will be asking my clients some questions in scheduling their appointments:

Do they have a cough?
Have they had a fever?
Have they been around anyone showing signs of sickness in the past 14 days?
Are they living with anyone who has been sick or quarantined?
Rescheduling Missed COVID Appointments
Everyone wants to come in the first week. Priority will be given to my clients that had to miss their appointments due to the shelter in place. I have a list of all the missed appointments and am working extra hours to be sure to accommodate everyone.
I have sorely missed being behind the chair and all my clients. The changes listed above are not negotiable. I truly appreciate your support.   Your health and safety are my number one concern as well as mine and my coworkers.  We will all get through this together.  
I am looking forward to seeing y'all again! Be sure to follow me on Instagram to see what I am up to.
Be safe friends and stay healthy!
💜 Rachel